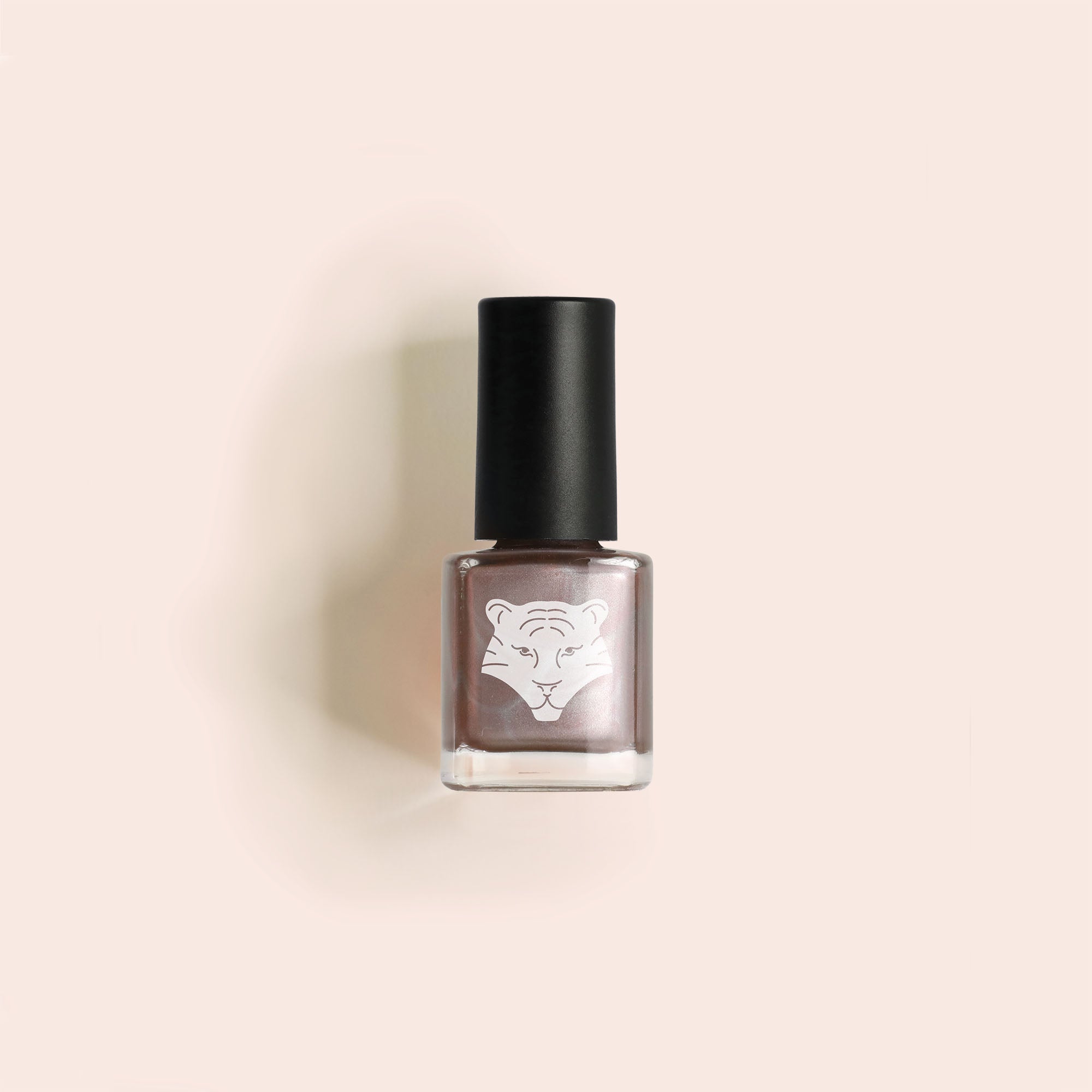 Nail Polish | Rose Metallic 212
SHOOT FOR THE STARS
❮
Free delivery from 45€ of purchases
❯
Description
Color
Application
Composition
What's this ? The perfect metallic nail lacquer! Brilliant idea, this pink shade with iridescent taupe reflections is easy to match with any look.
Intense and opaque from the first application. Easy application, impeccable shine and hold.
Nomadic format
, ideal for exploring.
"Shoot for the stars", this is what this nail lacquer invites us to do, inspired by a night in the heart of the jungle. Its reflections sparkle under the starry sky ... Ultra-glamorous, totally chic, this metallic pink nail polish guarantees a subtly daring manicure: just the perfect touch of originality for a resolutely liberated style.
9-FREE and Vegan nail polish. Travel size 7.5 ml.
Le vernis rose métal parfait ! Idée brillante, cette teinte rose aux reflets irisés tirant vers le taupe est facile à accorder à tous les looks. "Vise les étoiles", voici à quoi nous invite ce vernis, inspiré d'une nuit au cœur de la jungle. Ses reflets moirés scintillent sous le ciel étoilé... Ultra-glamour, totalement chic, le vernis à ongles rose métal garantit une manucure à l'audace subtilement dosée : juste la touche d'originalité parfaite pour un style résolument affranchi.

Apply the polish starting from the middle of the nail and continuing to the edges if necessary, after removing the excess material on the edge.
The "one-shot" brush is specially designed for precise dosing, suitable for all nail shapes.
For an even more opaque result, apply the color twice.
2-step express routine
Apply our PUNCH IN THE AIR 2-in-1 nail lacquer:
As a base to protect the nail before the colored nail polish;
As a top coat to optimize shine and hold, after the colored nail polish.
Allow to dry well between each step.
Nail Polish | Rose Metallic 212
The Clean & Natural Lacquer that Stays for Days!
Why should a long-lasting nail polish have to be made up of a bunch of questionable ingredients? Green lacquers are a great alternative: they have the same shine and wear as any classic polish. 9-FREE FORMULA Our lacquer does not contain the most adverse ingredients. You won't find any benzophenone, formaldehyde, etc. in our lacquers! GREEN With up to 82% natural or plant-based ingredients. Cassava, potato, sugarcane:these naturally derived ingredients are perfect alternatives to artificial solvents. VEGAN Zero animal-based products (most notably no carmine, a pigment from cochineal insects). We are against animal testing which, while prohibited in Europe, still takes place in other parts of the world.
Lacquer that Protects Your Nails
To keep your nails nice and healthy, our lacquers are a cocktail of nourishing active ingredients: BAMBOO: fortifying source of silicon ACEROLA: rich in vitamin C GLYCERINE: highly nourishing GOTU KOLA: the famous "tiger grass" with restorative properties.
Nail polish application
Do you always have to put a base?
It is not mandatory to put a base, but we recommend it. Used as a base, the clear nail polish 190 ALL TIGERS is used to protect and strengthen the nail; and used as a top coat, it prolongs the hold and enhances the shine of the color nail polish you wish to apply.
How to properly apply the nail polish?
Apply the nail polish starting from the middle of the nail and continuing on the edges if necessary, after removing the excess material on the rim. 
The 'one-shot' brush is specially designed for precise dosing, suitable for all nail shapes. 
For an even more opaque finish, apply the color twice. 
The formula
How long does the nail polish keep?
ALL TIGERS nail polish can be kept for up to 24 months after opening.
End of product life
Where to throw the bottle and the nail polish brush?
The bottle of your ALL TIGERS nail polish is thrown into the glass bin.
J'adore
Commandé juste avant les fêtes de fin d'année, ce vernis est topissime ! Tenue et couleur irréprochables, application facile et super compo. Que demander de plus ? Ah oui, un packaging au top ! Merci All Tigers !
Vernis rose métal
J'ai découvert ce vernis en commandant la trousse (très jolie d'ailleurs) et belle découverte. Que ce soit la couleur, très jolie, à porter au quotidien, le rendu, discret, mais lumineux, la tenue, très bonne, l'application, très facile, une seule couche suffit, le temps de séchage, très rapide et les ++ : Vegan, Cruelty Free, une composition clean et Green, ce vernis est fantastique.
Vernis Rose Metal
tres belle couleur , une seule application suffit , et surtout tres bonne tenue ... J adore
Très bien
Je suis ravie de la couleur ,tenue bonne également ,j'aime le côté Green de se vernis
Très satisfaite!
J'ai testé ce vernis et je suis très agréablement surprise! L'application est extrêmement agréable, et comme promis la couleur est opaque en une seule application. Le pinceau est parfait a mon avis, et en plus de ca il sèche assez rapidement! La couleur est très jolie, assez original pour changer des couleurs habituelle, mais qui passe quand même pour toutes occasions. En plus de tout cela, c'est un produit vegan cruelty free et avec des ingrédients naturels, ce qui me rend heureuse pour la planète et notre santé!
Merci pour ce fantastique vernis, je le recommande!
(Les photos sont prises avec et sans flash.)
Impressionnant
Vraiment un sublime résultat.
Déjà à la première application, le nacré est sublime.
Photo très réaliste, la même couleur et le même effet.
Je recommande fois 100000.
N'hésitez pas une seule seconde.
Merci All-Tigers