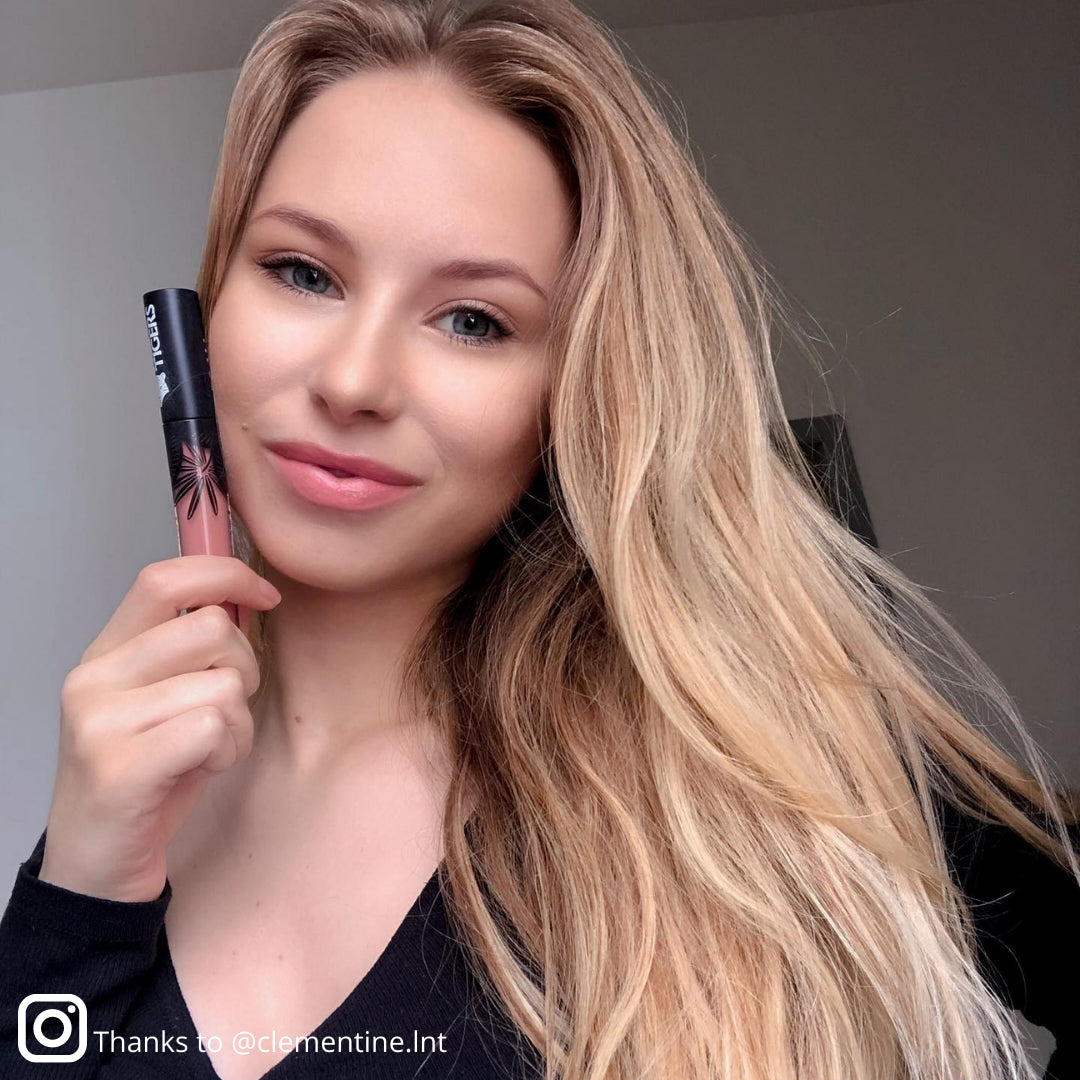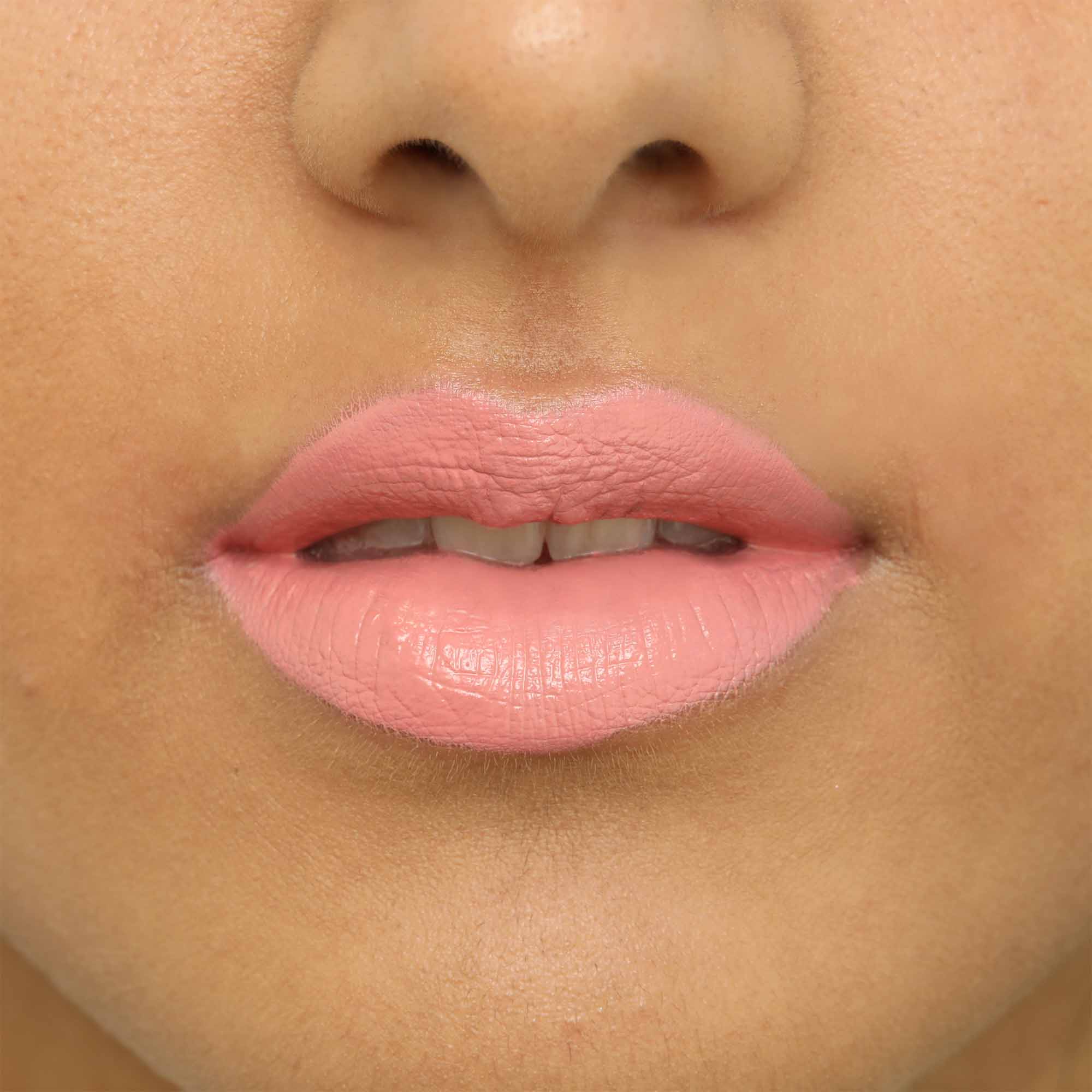 Rouge à lèvres mat | Beige Rosé 696
CHASE YOUR DREAMS
❮
Free delivery from 45€ of purchases
❯
Description
Color
Application
Composition
What's this ? This is the new generation natural lipstick:
- Impeccable hold, without drying out the lips
- Ultra-intense color, chosen with the ALL TIGERS community
- High coverage, approved by our make-up experts
- Semi-matte finish
- Composition 96.5% of natural origin
- 100% vegan & cruelty-free
The sensuousness of nude, the freshness of pink: with its shade wavering between beige and blush, this nude sienna is the perfect balance between subtlety and shine. An absolute beauty trend to follow and perfect for everyday or special events, this nude sienna is flattering on any skin tone. Roar!
- Formulated without silicones, the lipstick can transfer: the important thing is to apply the right amount of product. Find our 3 tips to limit the transfer effect of a lipstick.
- After application, press the lips on a paper tissue to better 'fix' the color. For best precision, use a brush.
- For best makeup removal, use a remover with a rich texture, such as an oil or thick milk. Find our advice for easily remove long-lasting lipstick.
Storage tips
Close tightly after each use, and keep away from daylight. The optimal period of use after opening (P.A.O.) for this type of product is 12 months, as for conventional lipsticks.
Key ingredients: organic castor oil, organic carnauba wax, organic corn extract, organic coconut oil, organic centella asiatica extract, organic aloe vera, pigments
No essential oils. Gluten-free. 100% natural fragrance.
INGREDIENTS : TITANIUM DIOXIDE, RICINUS COMMUNIS (CASTOR) SEED OIL, OLEIC/LINOLEIC/LINOLENIC POLYGLYCERIDES, ZEA MAYS (CORN) STARCH, UNDECANE, TRIDECANE, MICA, CI 45410 (RED 27 LAKE), CI 77491, (IRON OXIDES), CI 77492 (IRON OXIDES), GLYCERYL ROSINATE, POLYGLYCERYL-4 CAPRATE, COPERNICIA CERIFERA (CARNAUBA) WAX, HYDROGENATED JOJOBA OIL, POLYGLYCERYL-3 DIISOSTEARATE, SILICA, PARFUM (FRAGRANCE), CENTELLA ASIATICA EXTRACT, ALOE BARBADENSIS LEAF EXTRACT, COCOS NUCIFERA (COCONUT) OIL, HELIANTHUS ANNUUS (SUNFLOWER) SEED OIL, AQUA (WATER), TOCOPHEROL, LECITHIN, CITRIC ACID, ASCORBYL PALMITATE
Dermatologically tested. Made in Italy. Content: 15g.
*Cruelty-free: in Europe, regulations prohibit animal testing, and we refuse to test on animals outside Europe.
Our formulas have been approved by the Composcan expert application teams. Any questions? Write to us at hello[@]all-tigers.com
Rouge à lèvres mat | Beige Rosé 696
Color Rich Grrreen Lipstick
Would you ever have guessed that a natural lipstick could have so much pigment? GREEN Up to 100% natural ingredients and 40% organic ingredients. All questionable crude oils and chemical ingredients are excluded. The formula is also essential oil and gluten free. 100% VEGAN Zero animal-based ingredients. We are against animal testing and exploitation of any kind.
Long-Lasting Wear and Chap-Free
Smudge-free lipsticks are often unfortunately filled with silicones...plus, they dry out your lips. On the other hand, natural products are comfortable in addition to being great for your health. The ALL TIGERS lipstick formula is a cocktail of plant oils (castor, coconut, jojoba, sunflower, etc.), carnauba plant wax, and aloe vera. Their setting power guarantees long-lasting wear all day long. Their active power provides a "balm effect" for ongoing comfort.
makeup tips
How do I choose my lipstick shade?
To find the lipstick shades that match your complexion, take our quiz: "Find your shades" !
How to optimize the hold of lipstick?
Formulated without silicone, the lipstick is not 'transfer-free': after application, press the lips on a tissue to 'fix' the colour.
How to properly remove lipstick?
Our red is tenacious! For effective makeup removal, we recommend a rich texture such as a cleansing milk or oil.
Formula Questions
Are there any animal-derived ingredients in the formula?
No, zero animal derivatives, zero animal exploitation for our formulas. All ALL TIGERS products are 100% vegan.
Are there essential oils in the formula?
Is there silicone in the formula?
No, our lipsticks do not contain silicone. Natural priority! Therefore, we do not tolerate any ingredient from petrochemicals, such as silicones.
Do lipsticks contain cochineal carmine?
No, zero cochineal carmine in our formulas. Cochineal is an insect from which is extracted a scarlet red pigment (INCI name: CARMIN), traditionally used in cosmetics. ALL TIGERS being a 100% vegan makeup brand, we do not use this pigment.
During and after use
How long can I use the product?
Close well after each use, and store away from daylight. After opening, the optimal period of use is 12 months, as for conventional lipsticks.
What to do with end-of-use packaging?
When the products are used, you can put them in the tray intended for packaging. The cardboard box and the bottle are made of recyclable materials.
Rouge à lèvres mat | Rouge 888
Le rouge à lèvre parfait
Rouge a lèvre avec un couleur parfaite et bien pigmenté avec une tenue incroyable
Rouge à lèvres mat | Rose Corail 784
belle couleur, très bonne tenue, j'adore :)
Very good
Duration, quality and powerful colour
Top !
Très bonne tenue et facile à appliquer, couleur correspondant à mes attentes !
Génial
Superbe couleur orange corail. Qualité top et tenue longue durée. Je recommande
Kit lèvres
Couleur douce, rehausse juste ce qu'il faut. Par contre le rouge ****èche un peu, mais bonne tenue. Beau fini avec le gloss
RAL Bois de rose
Je ne suis pas une adepte des rouge à lèvres, mais celui ci me plaît bien. La couleur est jolie, pas trop voyante et il n'y a vraiment pas besoin d'en mettre beaucoup. Il est très pigmenté. Je trouve, par contre, qu'il ****èche les lèvres. Du coup je mets un baume nourrissant avant et c'est beaucoup plus agréable à l'application.
Le produit est Vegan, cruelty free avec une composition clean et green. Respectueux des animaux, bon pour notre santé et pour la planète ! Bravo
Les pigments en veux-tu, en voilà !
Un des meilleur mat que j'ai acheté.
Il glisse bien sur les lèvres et a tellement de pigments que je suis obligée de prélever légèrement la matière au pinceau. Ça suffit à faire l'entièreté de ma bouche!
Il sèche vite également.
Par contre, penser à poudrer pour bien le fixer toute la journée.